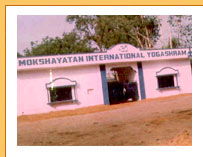 "Shakti: Sanyam: Seva" (Power: Command: Service). It has been embarking on new horizons under his holy tutelage for over 30 years.
"Just to quote from a feature on Yog guru Bharat Bhushan ji by Interpid clareford published in popular journal Health and fitness from London in answer to question 'Where is your Ashram, your yog school?' Guru ji replied 'It is in your heart.'
Guruji never finds time to involve himself in developing huge buildings or big land as his ashram to provide comforts, but to teach the art of living in an available place may it be small or big and learn the art of finding comfort within you by developing your body as the best ashram where your association should be a source of eternal peace and comfort to others who come to you.