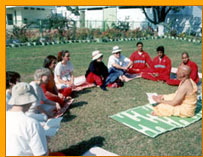 Q. 1 Why should I practice Bharat yog instead of other forms of exercises? What's new and different?
A. In general day to day life, an average man breaths around 15 to 20 times in a minute, but while practicing Bharat Yog postures, practitioner inhales minimum in 3 seconds, holds the breath for 6 seconds and exhales in 3 seconds i.e. one breathe in 12 seconds, which means 5 breaths in one minute. Now one can compare 20 breath and 5 breathe in one minute. This is the estimate of a beginner. Dog breathes very fast and he lives around 12 to 13 years. Longer breathing means longer span of life, shorter breathing means shorter span of life.
Q. 2 Why is at called BHARAT YOG?
A. Because it is the traditional form of yog given by Bharat i.e. India, to the entire world.